As I told you BONNIE TYLER was invited at the Swansea University as the Special Guest at Fulton House for St David's Day. A concert was organised with Males Voice Choir at 1pm on February 28th 2014.
Here is a great article written by Eve Oliver which explains what happens in the day:
Bonnie Tyler joined Swansea University Catering Manager, Les Carmichael and Swansea University Register, Raymond Ciborowski on a VIP table for a performance by the Gwalia Singers.
Bonnie Tyler said: "I am happy to be singing traditional Welsh songs in honour of St. David's Day' at Swansea University today. My visit to Swansea University comes with history as I received a honorary degree, so coming here means a lot. My favourite Welsh food is laverbread and cockles. I made it for Fern on Breakfast TV and she loved it!"
The concert was followed by lunch with the Choir in Café West. The menu included Traditional Welsh Cawl, Locally Produced Pork and Leek Sausage, Fresh Minted Lamb Burger and Welsh Cheese and Leek Tartlets, followed by a traditional dessert of Welsh Rice Pudding. The catering team felt 'excited and privileged to cook for Bonnie- a real honour'. The Welcome to Wales Food Festival aims to showcase wonderful food from around the principality, giving international students a taste of Welsh Culture which not only demonstrates good quality food but demonstrates that Wales is most definitely the land of song. As part of the celebrations, the Gwalia Singers performed. Gwalia was founded in 1967, formed of men of all ages and backgrounds. Their songs vary from traditional Welsh songs and opera choruses to songs from the shows and contemporary pieces. As part of the choir's successes, the Gwalia Singers performed at the Royal National Eisteddfod and the Llangollen International Eisteddfod.
Gwalia Singers conductor, Nick Rogers, said: "The experience was scary and exciting at the same time performing in front of Bonnie Tyler. We had lots of practice for the performance, but overall it was an enjoyable process."
Raymond Ciborowski, Swansea University Registrar, said: "It's a delight to welcome Bonnie Tyler, who is a graduate of ours, back to celebrate St. David's Day with us. Swansea University takes pride in being Welsh, we have been a part of the community for one hundred years and we hope to be a part for another hundred years."
---
Comme je vous l'ai dis, BONNIE TYLER était invitée à l'université de Swansea, elle était l'invitée spécial pour la fête de St Davis. Un concert a été organisé avec la chorale masculine Galloise le 28 février 2014 à 13h.
Un artivle a été écrit par Eve Oliver:
La traduction de l'article arrive prochainement...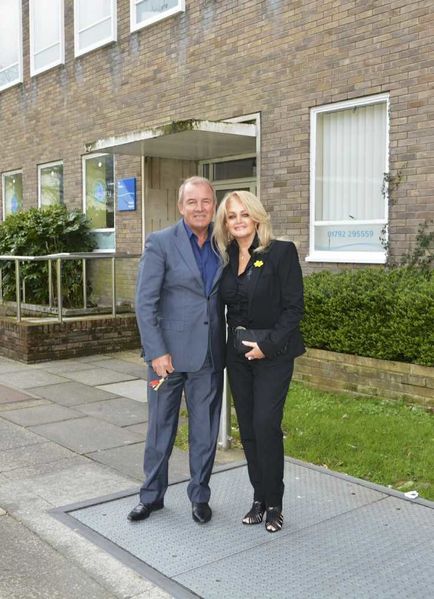 Here is a picture of BONNIE with her husband ROBERT SULLIVAN.
You can find ALL the pictures taken during that event on my Facebook page as well as the Pinterest account :)
STAY TUNED WITH THE QUEEN BONNIE TYLER!
---
Voici une photo de BONNIE avec son mari ROBERT SULLIVAN.
Vous pouvez retrouver toutes les photos de l'événement sur mon Facebook officiel ainsi que mon compte Pinterest :)
Restez informé(e)s avec THE QUEEN BONNIE TYLER!