Here a great picture of Bonnie Tyler with an amazing outfit at the Hilton Foundation Ball in October 2011.
Bonnie supported the charity ball which raised thousands of pounds for good causes.
The Hilton Cardiff's annual Foundation Ball had a Diva Las Vegas theme and was attended by Bonnie, Paralympian David Roberts and performer Ceri Dupree, who hosted the evening.
On October 26th 2011, I wrote an article on The Queen Bonnie Tyler to inform you Bonnie bought Nathan Wyburn's Rat Pack artwork. That was at the Hilton Fondation Ball.
To know more about the charity come on visit the official website of Hilton Fondation:
---
Voici une jolie photo de Bonnie Tyler avec une tenue sublime au bal Hilton Fondation en octobre 2011.
Bonnie a apporté son soutient au bal de charité qui a récolté des milliers de livres pour la bonne cause.
Le bal annual de la fondation au Cardiff hotel a pésenté un thème de Diva Las Vegas avec comme invités Bonnie, David Roberts et Ceri Dupree qui ont animé la soirée.
Le 26 octobre 2010, j'ai écris un article sur The Queen Bonnie Tyler vous informant que Bonnie avait acheté l'oeuvre de Nathan Wyburn Rat Pack. C'était au bal de Hilton Fondation.
Pour en savoir plus sur l'oeuvre de charité Hilton Fondation venez visiter leur site officiel: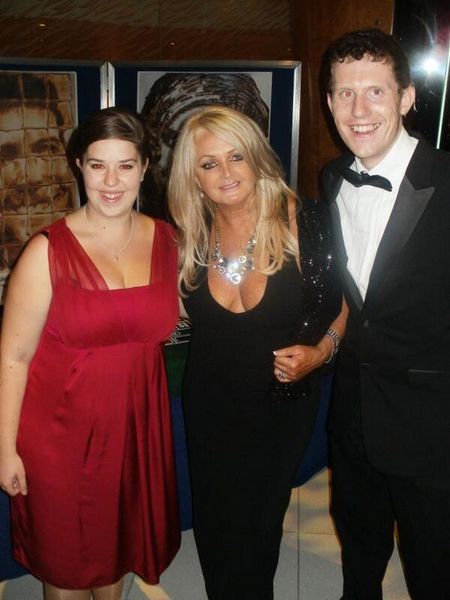 Hilton Cardiff General Manager Marie Fagan with Bonnie:
---
Marie Fagan, manager du Hiton Cardiff avec Bonnie: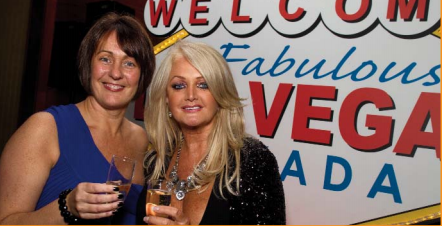 Click on the picture to read it // Cliquez sur la photo pour pouvoir lire: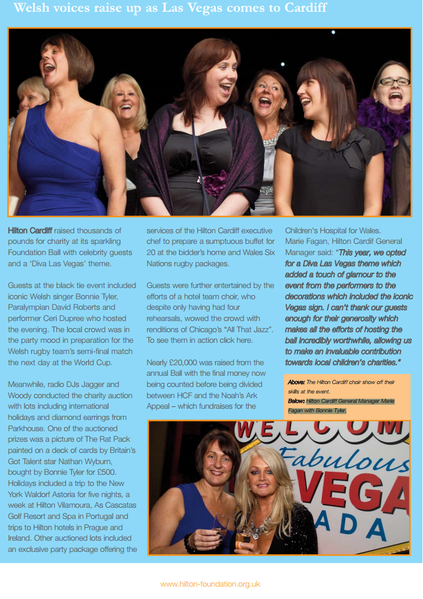 Bonnie tyler with Nathan Wyburn if you don't remember:
---
Bonnie Tyler avec Nathan Wyburn si vous vous en rappelez plus: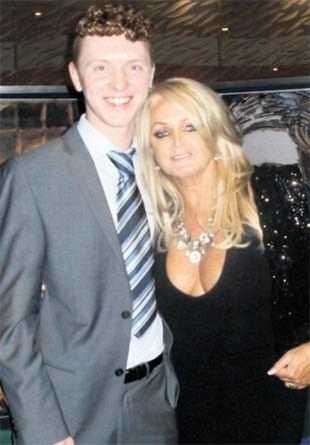 The Rat Pack: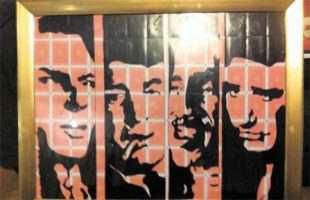 "I expected it to go for about £200, but it turns out there was a very anxious bidder in the room – none other than Bonnie Tyler herself. We had a chat afterwards and she said she's going to hang it in her new home she's building in Portugal, and she loves how unique my work is."
Nathan Wyburn
---
" J'attendais 200£ pour mon oeuvre mais il s'est averé qu'il y avait une encherisseuse anxieuse dans la salle et c'était Bonnie Tyler en personne. On a discuté un peu après et elle m'a dit qu'elle allait l'accrocher dans sa nouvelle maison qui est construction au Portugal, et elle adore a quel point mon travail est unique."
Nathan Wyburn
Source, photo: hilton-foundation, Dan and Laura Curtis, southwalesargus