Do not forget that Gold Badge Awards + the concert in Norway + Moscow are coming soon!
Stay tuned on The Queen Bonnie Tyler to know everything!
I would like to tell you I am still trying to find the video of Bonnie singing Love Is the Knife in Denmark.
If you have it please send it to me at thequeenbonnietyler@gmail.com
Do not forget you can contact me at any time to send me pictures or videos or anything you want about Bonnie Tyler! You can also send me suggestions about the website The Queen Bonnie Tyler. I am open to read everything! This blog is for you and I need you to do it!
As you know I have always been ALONE to run the website The Queen Bonnie Tyler since 2010. I have always been here for you since 2010 even when there was nothing new about Bonnie: no album, no Eurovision, no interaction on facebook and websites...I was the one to take you inform about ALL THE NEWS about Bonnie with concerts, photos, videos, interviews... even when the official website was not updated! It was difficult to be known and to attract fans in the beginning! I also have been here for you during eurovision which was a BUSY period it was very difficul to follow everything! I went to bed at 3am each night to be able to find everything and to take you inform about anything! So I hope you will always be with me and that you all appreciate my work!
I would like to tell it is always boring to see other websites or facebook pages trying to do like me and to post news from my blog without telling it is from me! We are not competitors because we are all here for Bonnie but here is a message to all the facebook pages and websites about Bonnie: I would just appreciate to see the name and the link of my blog at anything taken from my blog!!! That is what I personnaly do each time I write an article!
I would like to tell all the fans I really appreciate your support from all around the world!
Recently I received a lovely present from my friend Even from Norway. Here is it, a t-shirt: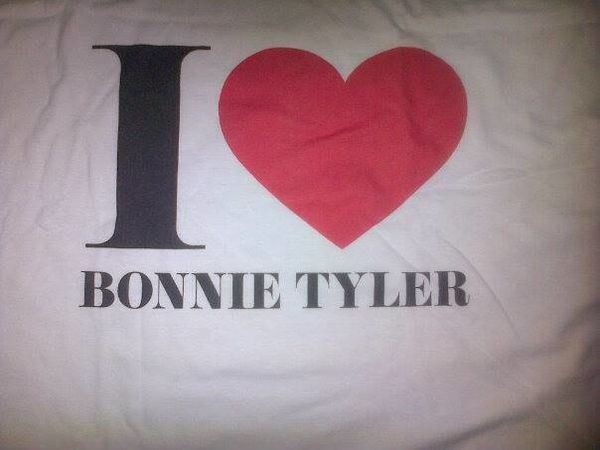 Do not forget I recently created a Pinterest account where my friend Nancy and I will update lots of pictures. There will be pictures you have NEVER SEEN BEFORE!
We also created albums with videos: interviews, live concerts, TV performances, clips... For the moment there are few videos but we are working on it so by the time it will be a huge place to find lots of pictures as well as videos!
Be careful in albums of pictures there are also videos :)

Stay tuned on THE QUEEN BONNIE TYLER to know everything!!
Thank you!!!
With love and best wishes!
Meghann,
---
N'oubliez pas que le Gold Badge Award + le concert en Norvège + à Moscou arrivent à grand pas!
Restez sur The Queen Bonnie Tyler pour tout savoir!
J'aimerais vous dire que je suis en train de chercher la vidéo de Bonnie chantant Love Is The Knife au Danemark!
Donc si vous avez cette vidéo s'il vous plait n'hésitez pas à me l'envoyer à thequeenbonnietyler@gmail.com
N'oubliez pas que vous pouvez me contacter n'importe quand pour m'envoyer des photos ou vidéos ou autre chose concernant Bonnie Tyler! Vous pouvez aussi m'envoyer des suggestions concernant le site The Queen Bonnie Tyler. Je suis ouverte à tout! Ce blog est pour vous et j'ai besoin de vous pour le faire!
Comme vous le savez déjà je gère le site The Queen Bonnie Tyler SEULE depuis 2010. J'ai toujours été là pour vous depuis 2010 même lorsqu'il n'y avait pas d'actualité sur Bonnie: pas d'album, pas d'eurovision, pas d'interactions sur facebook et les sites... J'étais la seule à vous tenir informé de toutes les nouveautés sur Bonnie: concerts, photos, vidéos, interviews... même lorsque le site officiel de Bonnie n'était pas mis à jour! c'était difficile dans les début de me faire connaitre et d'attirer les fans! J'étais là pour vous aussi durant l'eurovision, c'était très dur de suivre toute l'actu durant cette période très chargée! Je me couchais tous les soir à 3h du matin pour être sûre de tout trouver et de vous tenir informé de tout! Donc j'espère que à votre tour, vous serez toujours là pour moi et que vous appréciez mo travail!
J'aimerais aussi vous dire que c'est vraiment pénible lorsque les autres pages facebook ou sites essaient de faire comme moi et surtout lorsqu'ils prennent les infos sur mon blog mais qu'ils ne disent pas que cela vient de moi! Nous ne sommes pas en compétition, nous sommes tous là pour Bonnie! J'ai un message pour ces personnes: SVP à chaque fois que vous prennez quelque chose sur mon blog ou sur ma page facebook j'aimerais que vous mettiez le nom de mon blog ainsi que le lien!!! C'est ce que je fais à chaque fois que j'écris un article!
J'aimerais dire à tous les fans que j'apprécie votre soutient du monde entier!
Récemment j'ai reçu un cadeau de la part d'un fan, mon ami Norvégien Even. Le voici, un jolie t-shirt: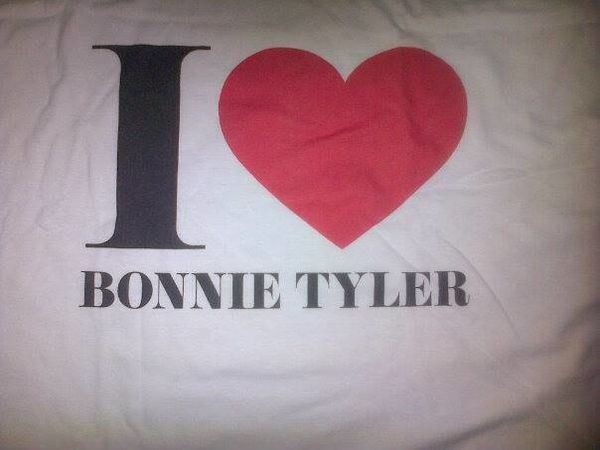 N'oubliez pas que j'ai récemment créé un compte Pinterest et avec mon amie Nancy, nous postons beaucoup de photos. Il y aura bientôt des photos rares que vous n'avez encore jamais vues!
Nous avons également créé des albums de vidéos: interviews, concerts, performances à la télé, clips... Pour le moment il n'y a pas beaucoup de vidéos mais nous sommes en train de travailler là dessus.
Avec le temps, il y aura beaucoup de photos et de vidéos!
Faites attention dans les albums de photos il y a aussi certaines vidéos :) !

Restez en ligne sur THE QUEEN BONNIE TYLER pour tout savoir sur Bonnie!!
Merci beaucoup!!!
Mes amitiés!
Meghann,