For the first time ever Bonnie Tyler answered to questions that fans asked on twitter.
After waiting a few minutes a tweet with an exclusive picture were posted:
Bonnie's looking at all your questions preparing for her live Twitter Q&A #askBonnie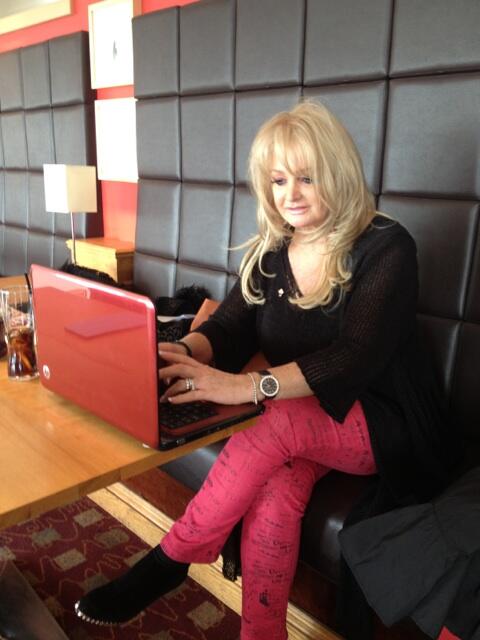 Then, a new tweet was posted:
Hi everyone. Bonnie is about to start answering your questions. She'll get through as many as she can #askBonnie
Finally, after waiting few second Bonnie Tyler posted her first tweet.
She answered to 33 questions:
If you could record a duet with anyone living or dead, who would it be and why?
So many. Janis Joplin. She lived her songs and her voice is so passionate.
r u Planing to got on Tour with your New Record #rocksandhoney ? Would Love to Visit One of your Shows!!
I'm ready and willing as soon as my album gets in the charts. I'm looking forward to performing these wonderful songs live.
Have you been listening to the entries from the other countries? If so, which one do you like best?
I have listened to a few of them. Russia, Holland, Norway & Germany are all very good.
will we ever see the famous perm again ? not even for one day ?
Never! You will never see me with a perm - it was just scrunching with mousse :)
Do you plan to make some concerts in Paris ?
I'd love to. I love Paris!
Hi Bonnie, out of your songs that weren't as big, e.g Take Me Back, Streets of Little Italy, which was your fav?
If You Were A Woman and I Was A Man. It was written by the same person as Believe In Me.
Descrive your fans in one word please. Meghann xxx
Dedicated
If you put your career and singing aside, what is the best thing that has happend in Your life? xxx
Finding my husband Robert and getting married.
Bonnie what are you most afraid of in life?
Fire
WHAT IS YOUR FAVOUTITE DISH ?? Valérie from France xxx
I love Thai Green Curry with sticky rice
any plans to promote rocks and honey in USA? the album can top the charts easily!
Yes when the time is right.
Hi Bonnie, what is your favorite song from the new album "Rocks and Honey" and why?
I love every song. It's too difficult to choose.
did you ever imagine someday you would be so famous and that people would always sing your songs?
Never in a million years. I was lucky to get a break. I'm flattered that people sing my songs.
do you ever get tired of singing 'total eclipse of the heart' or it's normal for you?
Never. I really love singing it. the crowd sing it with me.
Did you ever think when your career began that we'd be talking to you over a network of computers one day?
I'm shocked that even I've got a mini iPad!
would you like to do a concert in Mexico or any latin America country? (I'm from Mexico and I love you so much)
I'd love to if given the opportunity.
Hello Bonnie! Do you have a hobby?
No. I don't have time for one!
Would you sing Believe In Me in another language? You've sung in Spanish and French before and are proudly Welsh
Yes it's a possibility.
u said you already have enough material for another album. Will we see that album in the next year or 2?
I wouldn't be surprised. I enjoyed making Rocks and Honey so much.
What is your favourite place to go for holidays, if Portugal doesn't count?
I adore Portugal. I have a place there.
What made you say 'yes' to doing Eurovision?
It's a wonderful opportunity!
any news on a second single?? (Sunshine??? ;) )
It's funny you should say that. Lots of people are asking for that one.
Do you do your make up yourself for concerts? How do you do it? It always looks so perfect!
Yes I do do it myself for concerts.
hello, Bonnie! Could u tell me what do you think about gays? ;-) Good luck in May! =)
The gay community have always been so supportive of me.
I regard all people equally.
a quote you live by?
Treat people as you'd like to be treated yourself.
WHY DID YOU DECIDED TO BUILD A NEW HOUSE IN PORTUGAL??? Meghann xxx
I fell in love with Portugal in 1976. It's palace I can switch off and relax. So beautiful.
what number position do you hope to sing in Eurovision?
I'd like to perform around 15 or later!
lovely trousers Bonnie :) Do you have an idea how to perform Believe in Me during Eurovision? I mean your outfit.
I'm in the process of putting ideas together at the moment.
are you genuinely doing Eurovision this year? This would make my entire life.
Abslolutely!
hi bonnie is there a chance you will do signingsessions in germany.if so please come to munich
I've already done one. I'm sure there'll be more to come
there will be a "blues" album? Hope Bonnie comes in italy soon...not only for skiing
I love the Blues. I do two Blues songs in my show. Probably won't do a Blues album though.
After answering 33 questions during around 45 minutes, a new tweet was posted with a picture:
Bonnie has to sign off now. She says thanks for waiting so long for the new album, your loyalty & all your questions!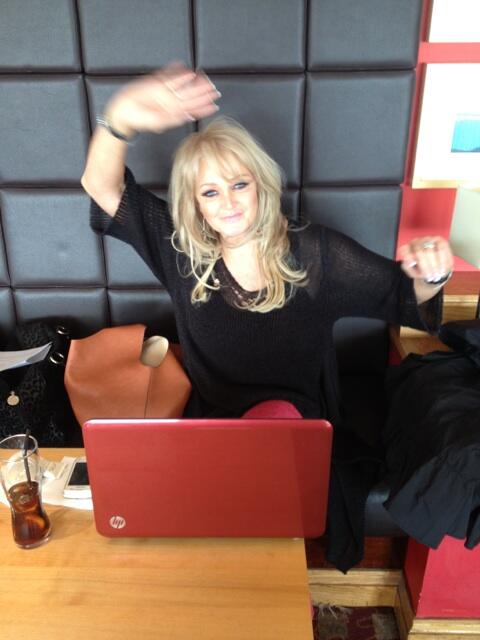 2 hours later a new picture has been posted with a new tweet:
Another pic of Bonnie going through all your questions.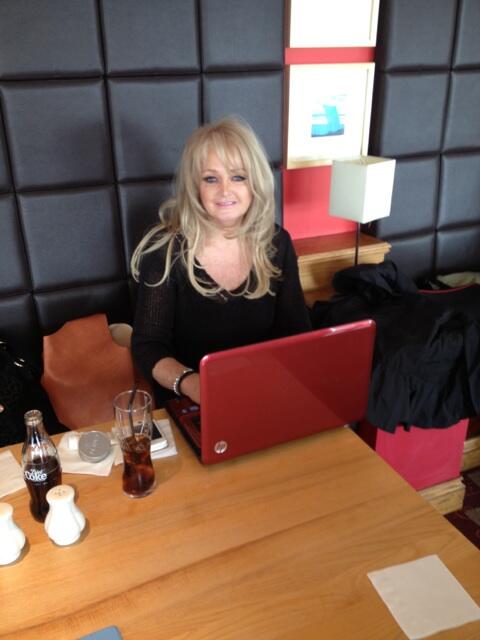 Thank you so much to Bonnie.