Bonnie Tyler nominated Bobath Children's Therapy Centre Wales for The Pride of Britain Awards earlier today at Liberty Staidum in Swansea.
Bonnie also offered her advice to Katherine Jenkins on dealing with negative press: "She should take no notice. You just have to dismiss negative stuff like that. My advice to Katherine would be 'Put it out of your mind and don't read it'."
Speaking about the centre Bonnie told: "The centre does a wonderful job and the children who go there are wonderful.Their parents deserve awards too, they are carers 24 hours a day."
Gail Griffiths, fundraising manager of the Cardiff-based charity, said: "Bonnie does a great job of publicising our cause and despite being really busy she has met many of the children at the centre – they love seeing her."
Bonnie added: "This Saturday I'm going to be appearing at the Harley Davidson 110th anniversary bash in Rome, it's going to be big. I'm extremely busy but Eurovision was one of the events of the year. The reaction when I went on stage was absolutely fantastic."
---
Bonnie Tyler a nominé Bobath Children's Therapy Centre Wales à The Pride of Britain Awards (Les awards de la fierté Britannique) aujourd'hui au Stade Liberty à Swansea.
Bonnie a également donné quelques conseils à Katherine Jenkins concernant les critiques des journaux: "Elle ne devrait pas y faire attention. Tu ne dois pas penser à ce genre de choses négatives. Je conseillerais Katherine de ne pas y penser et de ne pas le lire."
Bonnie a révélé sur le centre: "Le centre fait un travail merveilleux et les enfants qui y vont sont merveilleux. Leur parents méritent des awards également. Ils prennent soin d'eux 24h sur 24."
Gail Griffiths, le fondateur de du centre charitatif a déclaré: "Bonnie fait un excellent travail. Elle fait de la pub pour notre cause malgré le fait qu'elle soit très occupée, elle a rencontré plein d'enfants dans le centre, ils adorent la voir."
Bonnie a ajouté: "Samedi je vais au 110ème anniversaire de Harley Davidson à Rome. Ca va être énorme. Je suis très occupée mais l'eurovision c'était l'événement de l'année. Lorsque j'étais sur scène l'ambiance était absoluement fantastique."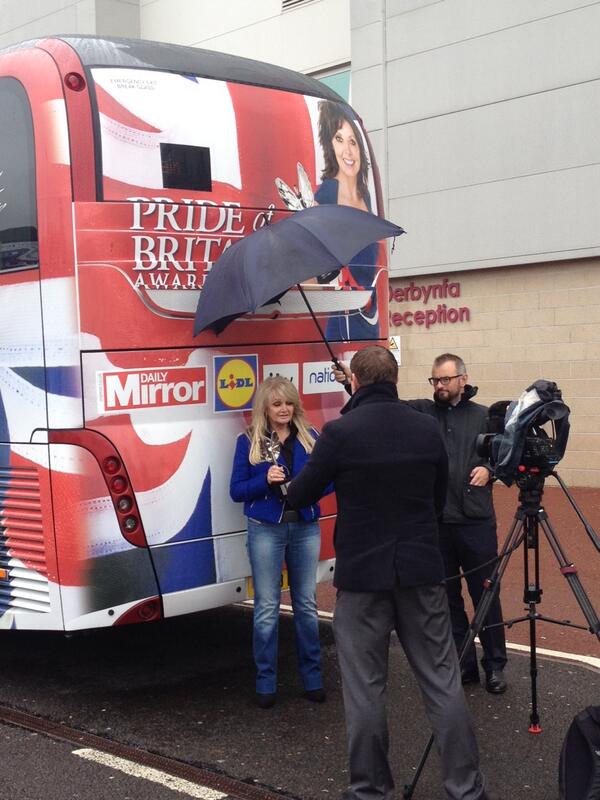 Read the full article // Lire l'article en entier