Today is a special day for fans because that's Bonnie Tyler's birthday!
She is now 62 and she is still the Rocking Queen!
Some fans are lucky because they have the chance to be with Bonnie for her birthday today in Germany in Stendal because she is doing a concert tonight.
They will all celebrate her birthday but wherever you are you can also celebrate it in your way!
I wish Bonnie all the best because she deserves it and i hope this day will as special as she is...
Love,
Meghann,
---
Aujourd'hui est un jour spécial pour les dans car c'est l'anniversaire de Bonnie Tyler!
Elle a 62 ans et c'est toujours la Reine du Rock!
Certains fans ont la chance de pouvoir être présents avec Bonnie pour son anniversaire car elle va donner un concert ce soir à Stendal en Allemagne.
Ils vont tous fêter son anniversaire mais où que vous soyez vous pouvez vous aussi fêter cet événement à votre façon!
Je te souhaite un Joyeux Anniversaire Bonnie! J'espère que ce jour sera aussi spécial que toi...
Meghann,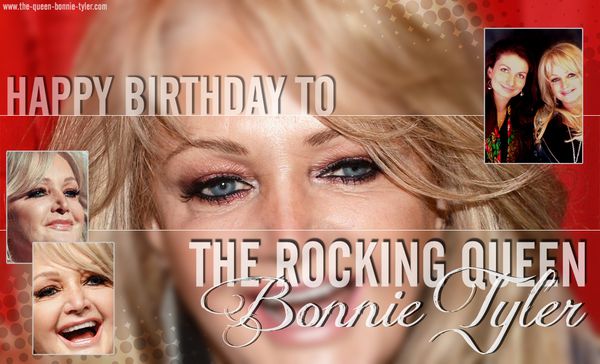 Thank you to Lauri Von B (the official designer of the blog) for making this picture for me!
---
Merci à Lauri Von B ( la designer officielle du blog) pour m'avoir fait ce montage!