Gemma Brooks made the cover of the South Wales Evening Post with Bonnie Tyler.
Lucky giiiirl!
Thanks Aunty Gaynor!
---
Gemma Brooks a fait la couverture du journal
Evening Post
avec Bonnie Tyler.
Chanceuse!
Merci Tante Gaynor!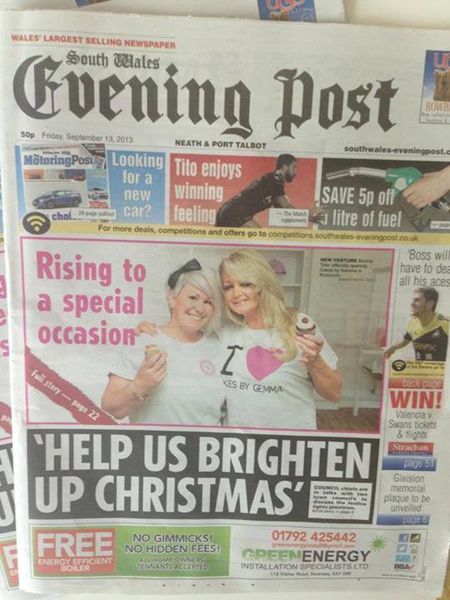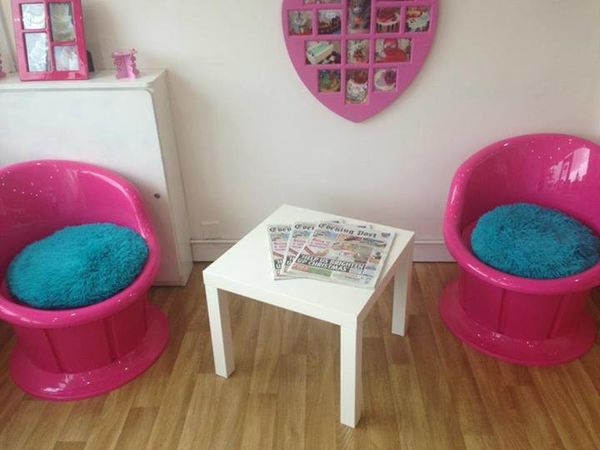 Here is the article:
Shop's opening is a piece of cake with Bonnie Tyler's help
A HOME baker whose customers were forced to park at the bottom of her street to avoid the potholes, has opened up her own shop — with the help of a singing superstar.
Bonnie Tyler officially opened Cakes by Gemma in Furzeland Drive, Bryncoch, this week by cutting a ribbon.
And the opening was followed by a sell-out day for the store.
Miss Brooks — a mum-of-two and former art teacher - opened the shop for a variety of different reasons — including issues with her home road, Ormes Road, Skewen.
Residents featured in the Post last month complaining about the state of the unadopted road, and Miss Brooks said her customers were forced to park on the bottom and walk up to collect their delicious goods from her home.
She added: "But it wasn't just that. I started off doing it just for friends and family in the house, because I have two little girls aged six months and two years. But then I was getting so many orders, I was having to turn away about six a week — so I started looking into it, and then my partner was made redundant, so I decided to do it."
Miss Brooks said she'd had a deep, creative passion from a young age. She studied art and design through college and university, before becoming an art teacher. But it was when she was carrying her first child she fell in love with baking.
"I learnt to bake from my Nan," added Miss Brooks. "After years of watching over her shoulder, she then became my taster.With her passed down recipes, her memory now lives on inside me and my cakes. Through determination and encouragement I then set up a cake page to showcase my work and everything spiralled. With business blooming I decided to take the leap to follow my dream and open a cake shop."
Miss Brooks chose the shop as soon as she fell in love with it — and said it was in a well established business area.
Talking of the opening with Bonnie — her partner's aunt — she said: "It was amazing, absolutely crazy. There were hundreds of people here and people were even buying the stuff I'd had out on display since the night before."
Miss Brooks said she hoped to use the shop's back room to run art and baking classes.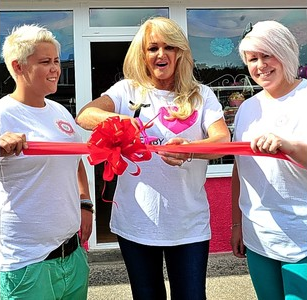 Cake-themed Bonnie Tyler songs:
Total eclipse of the heart- Total eclair of the heart
Holding out for a hero - Holding out for a welsh cake
Piece of my heart - Piece of my cake
Straight from the Heart- Straight from the oven
Take me back - Bake me back.
If you were a woman (and I were a man) - If you were a cup (and I was a cake)
I Still Haven't Found What I'm Looking For – I still haven't found what I'm cooking for
Lost in France – Lost in jam
It's a heartache – It's a cakebake